Release Note: August 2023¶
New HTTP-Tracer¶
The brand new HTTP-Tracer allows you to proactively monitor performances of web services and web-based API calls.
It provides metrics like the availability, DNS time, connection time, TLS time, server time, and identifies the number of redirections and their impact on the performance.
So it perfectly complements the existing Net-Tracer solution.
Have a look at this introduction video to see what this new HTTP-Tracer is all about.
Please also refer to the new HTTP-Tracer section of this Kadiska online documentation for more information.
Please note that the Android app does not support HTTP-Tracer yet. It will be supported in a future product release.
Improved licenses usage dashboard¶
We have completely redesigned the "licensing" dashboard so that you can more easily monitor your usage.
This dashboard is now organized by tabs showing details of each individual component (Net-Tracers, HTTP-Tracers, sessions, ...).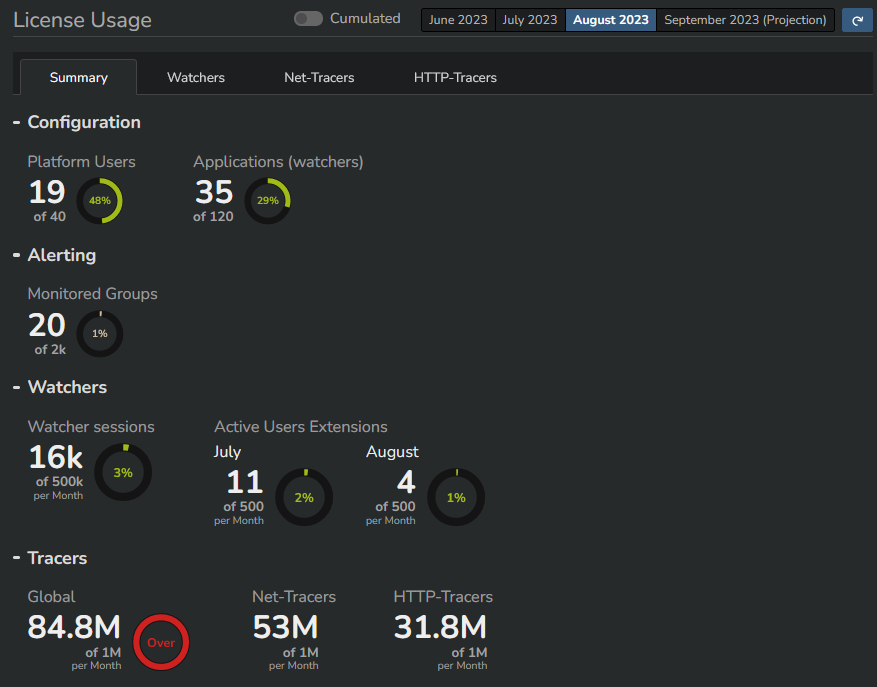 Improved network degradations automated diagnostic¶
The Net-Tracer auto diagnostic results provided by the Kadiska machine learning engine have been reorganized for more clarity: