Release Note: October 2022¶
New Alerting system¶
A brand new alerting system is now available.
The Kadiska platform lets you configure highly customizable alerts so that you can be instantaneously informed about any service degradation.
Alerts can be visualized in the Kadiska platform itself or can be exported in real time through webhooks to any centralized alerting system you may be using within your organization.
You'll find more information about the main concepts of the alerting system here.
All details related to the configuration are explained here.
Finally, explanations on how to visualize and troubleshoot alerts in the Kadiska interface are available here.
Enforcement of Enterprise Stations authentication security level¶
This enhancement has to do with the optional "allowed IP Addresses" field you can configure when creating your own Enterprise Station. This field specifies the IP addresses from which the Enterprise Station is allowed to communicate with the Kadiska platform.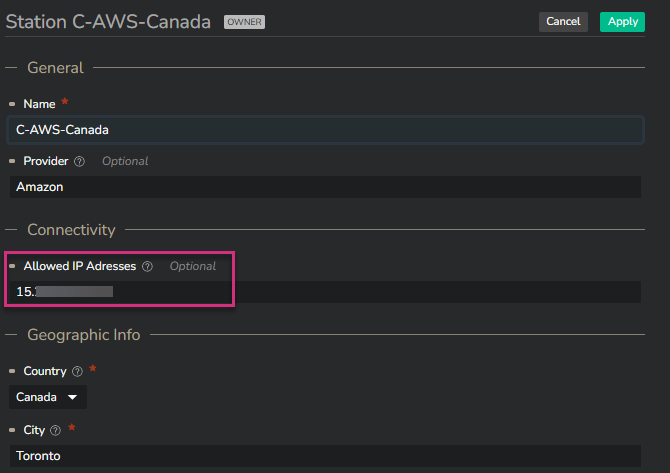 When an Enterprise Station communicates with the Kadiska platform through proxies, you could previously use any intermediate proxy IP address as allowed IP address.
This is not possible anymore. The Kadiska platform will only allow the first x-forwarded-for IP address to match allowed IPs.
Enterprise Station deployment script new Linux distribution support¶
The Enterprise Station automatic deployment script now supports the OpenSUSE Linux distribution.